skynightblaze wrote:I searched many sites and all of them claim that there is no historical evidence of mecca in existence until 4th century AD but all the sites unanimously agree that there is historical evidence of mecca existing in the 4th century. I have no idea from where you got this idea that Mecca wasnt mentioned anywhere till the 8th century.... The muslim historians themselves acknowledge that mecca was built in the 4th century .
My question to you was (be careful to the wording):
a) Prove the existence of nowadays Mecca in the 6th/7th centuries.
--I'm talking about nowadays Mecca, in the time of Muhammad...
I don't care if a bunch of Yemenite tents were set up anywhere in the forth century. The Sira of Ibn Ishaq and the Annals of al-Tabari
do talk about a huge pilgrimage center coupled with an important trade market, founded and visited by Abraham/Ishmael, via Buraq.
Such an important trading and pilgrimage place would have been noted from external source. Yet none of the Greek historians close to
the time of Muhammad, but Cosmas, Procopius and Theodoratos, completely ignore such a city, although they were quite aware of the
spice road. They all knew about Yathrib and Ta'if but NOT anything from/about Mecca.
Even the well-informed Theophanes the Confessor ignored it as late as 800CE!
Byzantine Sources. Historians and Chroniclers. Theophanes the Confessor – Chronicle
http://www.answering-islam.org/history/ ... onses.html
" onclick="window.open(this.href);return false;
He knows of the anti-Umayyad rebellion of Abdallah ibn al-Zubair but thinks it was at Yathrib (Medina) rather than Mecca. Theophanes does not seem to know about Mecca as he fails to mention it in his summary of Muhammad's career in the year 6122 (629/630).
Meccan Trade and the Rise of Islam (Patricia Crone).
http://books.google.ca/books?id=VWL-_hR ... &q&f=false
" onclick="window.open(this.href);return false;
It is the sixth-century silence that is significant.... Of Mecca there is no mention for a long time; and the first sources to mention the sanctuary fail to give a name for it, whereas the first source to name it fails to locate it in Arabia. Jacob of Edessa knew of the Ka'ba toward which the Muslims prayed, locating it in a place considerably closer to Ptolemy's Moka (about Petra) than to modern Mecca, in other words, too far north for orthodox accounts of the rise of Islam; but of the commercial significance of this place he would appear to be completely ignorant.
Such is confirmed by the computerized evidence gathered from the earliest qiblas (before 705AD).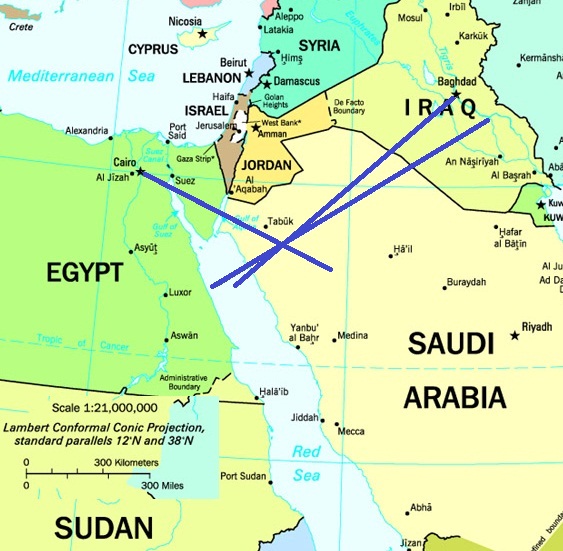 Picture:
http://www.historyofmecca.com/historica ... .htm#qibla
" onclick="window.open(this.href);return false;
http://www.historyofmecca.com/
" onclick="window.open(this.href);return false;
No Mecca before the 4th century - no Kaaba before the 5th century - means no foundation whatsoever underpinning Islamic "tradition". That leaves Islam as Mohammed's stand-alone 7th century invention. Since Abraham, Hagar and Ishmael never lived or traveled within 1,000 km from where Mecca was eventually built, and lived nearly 1,000 years before the first caravan ever traveled along the Red Sea in Arabia, the truth is undeniable.
Clearly the Sira and Annals were but fabled versions of Gen.21.14-21 adding 800 miles of unknown, torching desert. Blessed be Buraq!
My belief isn't that there was no Mecca but that the Koranic al-Masjid al-Haram was located elsewhere, ie. in northwest Arabia...
It was originally in the precincts of al-Haram (al-Ula, old Dedan) and the former al-Hijr (sura 15) otherwise known as Mada'in Saleh.
37:137-138: And lo! ye verily pass by (the ruin of) them in the morning And at night-time; have ye then no sense ?
Picture from Le Figaro, France. Mada'in Saleh (al Hijr, Hegra, ie. the Hegira), 20 miles from al-Haram (Dedan/Al-Ula).
So again:
MECCA -Myth vs Reality: In Search of Mt Sinai!
viewtopic.php?f=30&t=8527
" onclick="window.open(this.href);return false;