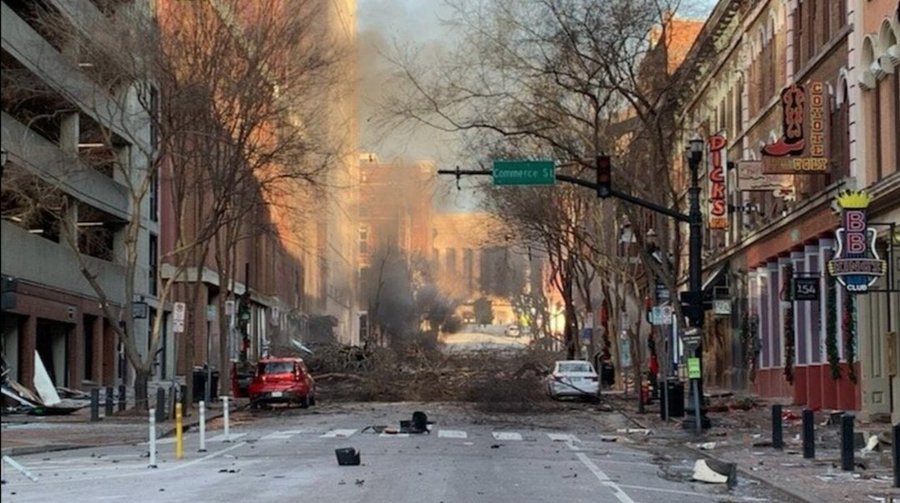 Explosion in downtown Nashville believed to be "an intentional act," police say

A large explosion ripped through downtown Nashville early Christmas morning in what police are calling "an intentional act," apparently set off by an RV that blared warnings about a bomb before it detonated. CBS affiliate WTVF reports the blast was felt across much of Davidson County around 6:30 a.m.

Law enforcement sources tell CBS News they have found what appear to be human remains near the site of the explosion. They have not indicated whether the remains are from someone connected to the explosion or from an innocent victim.

"The explosion was significant, as you can see," police spokesman Don Aaron said at a briefing Friday morning. "We do believe that the explosion was an intentional act."

Three people were taken to the hospital for treatment, but officials said the injuries were not believed to be critical. Police said one officer was knocked off his feet by the blast.

Nashville Police Chief John Drake said officers had received a call of "shots fired" in the area of Second Avenue near Commerce Street at about 5:30 a.m.

"As officers responded, they encountered an RV that had a recording saying a that potential bomb would detonate within 15 minutes. Officers, upon hearing that, decided to evacuate the buildings nearby, so they began knocking on doors, making announcements ... to get people safe."

"Shortly after that, the RV exploded," Drake said.

Friday afternoon, the police department tweeted a photo of the RV taken from a security camera before the blast, and asked anyone with information about it to contact authorities.

"We know of no other imminent danger to the area at this point," Aaron said.

The FBI and ATF are now taking the lead on the investigation. FBI Assistant Special Agent in Charge Matt Foster said at a midday briefing, "We're putting everything we have into finding who was responsible for what's happened here today. As part of doing that, there are investigative leads to be pursued. There's also technical work that needs to happen."

"Please tell us what you know. We need your leads, we need your help," he said.