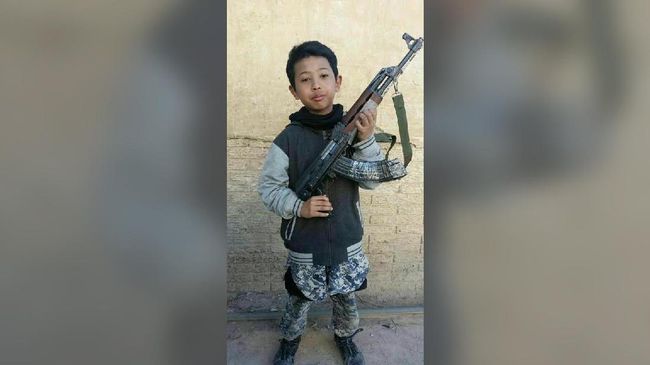 A boy from Indonesia, Hatf Saiful Rasul was reportedly killed when a ISIS fighter in Syria. The 11-year-old boy reportedly left school and flew to Syria to join ISIS militants. Hatf reportedly died after being hit by air strikes on 1 September.
Hatf's decision to join ISIS was first noticed when he visited his father, Syaiful Anam in a high-security prison. At that Ibn Mas'ud Pesantren where he studied is on school holiday season. Syaiful relates it in his 12,000 word essay published online.
Syaiful finally allowed Hatf to join ISIS. He is known to go to Syria in 2015 with 12 people consisting of 8 teachers and four students from ponpes. Haft joined the group of fighters from France.
According to Syaiful, the school where Haft minimba science is managed by "comrades who spread the same ideology".
Reuters spoke with three anti-terrorism officials in Indonesia who confirmed the truth of Hatf's departure to Syria.
ponpes = a school to learn about islam
Source :
__hxxps://www.cnnindonesia.com/internasional/20170910154836-120-240748/bocah-petarung-isis-asal-indonesia-dilaporkan-tewas/
__hxxp://www.freemalaysiatoday.com/category/world/2017/09/07/indonesian-school-a-launchpad-for-child-fighters-in-syrias-islamic-state/