Statue of God in Tuban, Indonesia Protested by Islamic Groups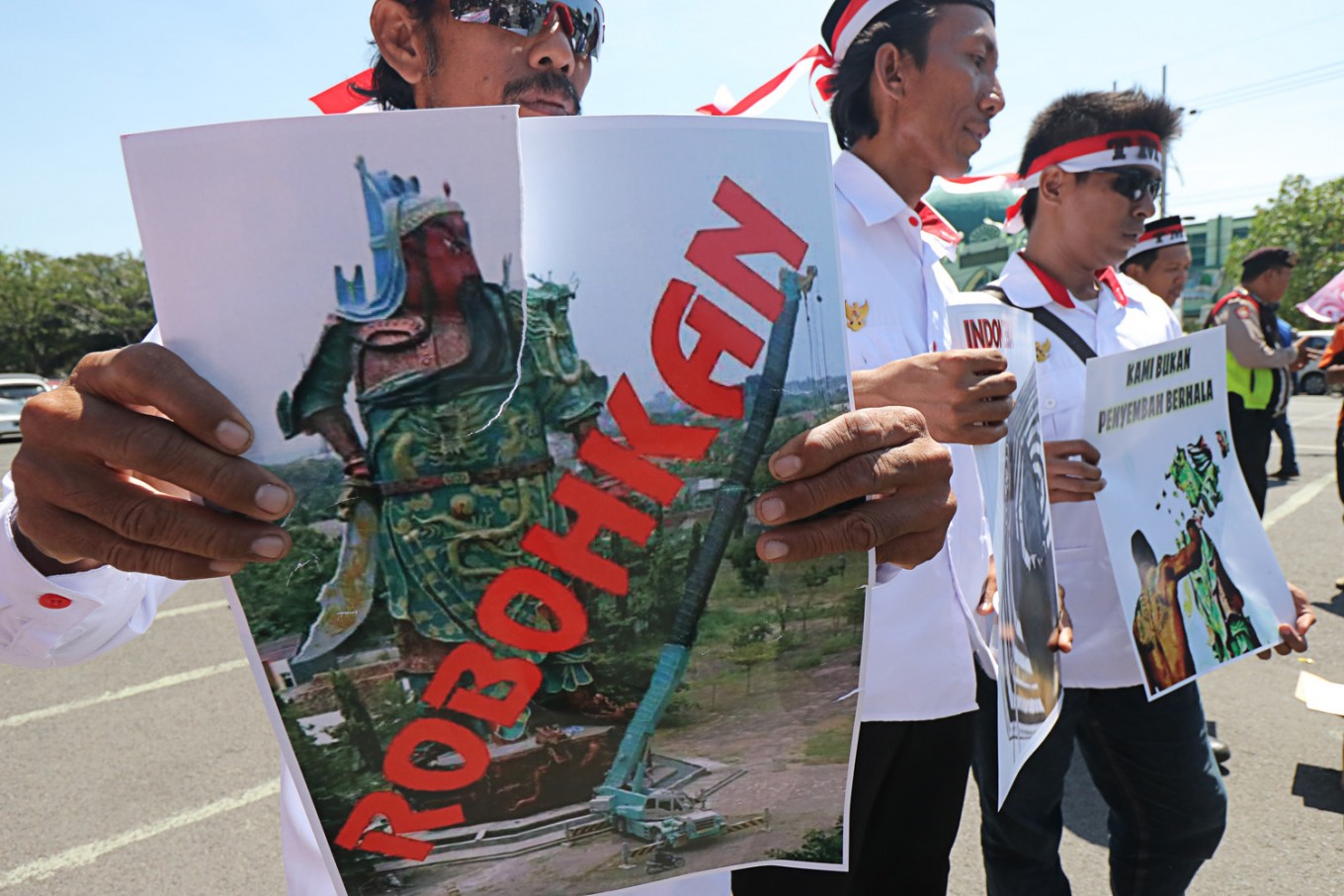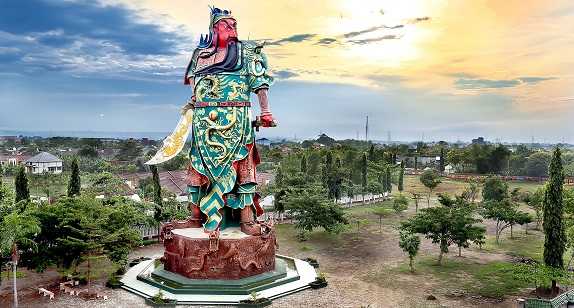 The recent demand of a group (islamic group) pushing for the demolition of a statue of war god Kongco Kwan Sing Tee Koen at the Kwan Sing Bio Chinese temple in Tuban, East Java, has provoked criticism.
The 30.4-meter statue, which cost Rp 2.5 billion (US$187,786) to construct, looks out onto Java's northern sea and has reportedly been a great source of support for Tuban's fishing communities and residents living around the temple.
----
The Kwan Sing Bio Chinese temple had existed without issue in the city of Tuban for generations, but the Muslim locals could not stand a 30-metre statue recently erected there.
The brightly coloured statue of a Chinese god is thought to be the highest in South-East Asia and was difficult to cover even with the large white sheeting it now hides under.
Islamic groups are demanding the statue be destroyed because it does not reflect the nationalism of Indonesia and is a betrayal of Indonesian identity.
The Muslim protestors also say the statue does not reflect the official religion of Indonesians.
Tuban's deputy police chief, Fadly Samad, said the statue was covered to maintain security and order.
"I coordinated with the temple to calm the situation down, not because of pressures from any group but to maintain security," he said.
There is concern among the Indonesian Chinese community about growing discrimination, fuelled in part by the blasphemy charges laid against the Christian former governor Basuki Tjahja Purnama, who is also known as Ahok.
Ahok is serving a two-year prison sentence for insulting the Koran in a case that has been linked to growing Islamic conservatism across the nation.
It was unclear if the $250,000 statue would be knocked down.
Indonesia is the world's largest Muslim nation.
Klenteng = a temple for Buddhists
Source :
__hxxp://www.bbc.com/indonesia/trensosial-40790781
__hxxp://www.portal-islam.id/2017/08/istana-mulai-ancam-pihak-yang.html
__hxxp://www.abc.net.au/news/2017-08-11/chinese-statue-covered-up-in-indonesian-city/8796404