Turkey: 'IS suicide bomber' kills 10 in Istanbul Sultanahmet district
A suspected member of the Islamic State (IS) group has killed 10 people, at least eight of them German tourists, in a suicide bomb attack in the Turkish city of Istanbul, officials say.

They say the Syrian national carried out the attack in the Sultanahmet district, near the famous Blue Mosque.

Fifteen people were wounded, many of them also German.

President Recep Tayyip Erdogan said Turkey was the "top target for all terrorist groups in the region".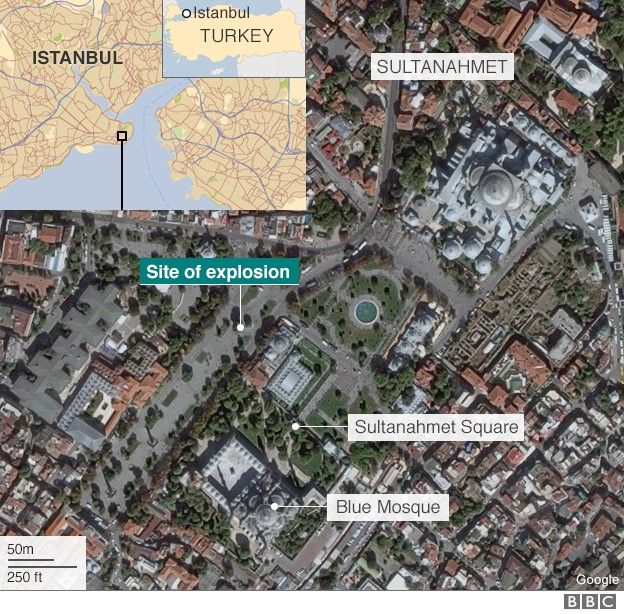 For those who don't know Istanbul, "Sultan Ahmet" is the ancient centre of Constantinople, and in many parts it is still surrounded by the ancient city walls. The "sultan Ahmed square" is the old hippodrome, the horse racing track, and if you look closely, the outline can still be seen. The district is home to most of the big tourist attractions of the city, the ancient cathedral of the holy wisdom, (Hagia Sophia), the blue mosque, the hippodrome, the old roofed central market, and the top kapi palace, the former seat of the Ottoman rulers. It has mostly quite narrow streets, a medieval confused layout, and little of Turkish business. It is mostly attractive to tourists.The old hippodrome was an obvious choice for a suicide bomber... it is full of tourists, few locals, and no religious buildings immediately near by.
The thing is, if you go to Istanbul but don't go to Sultan Ahmed, you will miss most of the interesting an unique things there, so pretty much all tourists to the city spend most of their time there, many even staying there. So if that district becomes too dangerous it is not worth spending money going there.
Well, Russians already have stopped going to Turkey, I guess Germans will now also stay away.
And OF COURSE Turkey has to be the "top target"... at least one thing they think they are "top". In a way it helps Erdogan, as it puts a temporary veil of his business dealings with IS at least, and let's him milk the "victim" thing for all he can. Now doubt next he will ask for more money from the EU.
http://www.bbc.co.uk/news/world-europe-35290760