The first edition of an al-Qaeda terrorist magazine written in English boasted the headline "Make a Bomb in the Kitchen of Your Mom" in July. Now its second edition includes some more equally chilling articles: "Tips for Our Brothers in the United Snakes of America,"* and "I am Proud to be a Traitor to America."
The "tips" article offers advice to terrorists that includes: "A random hit at a crowded restaurant in Washington, DC at lunch … might end up knocking out a few government employees." The articles headlines are detailed in the London Telegraph.
The new edition also includes "The Ultimate Mowing Machine," the Telegraph says, which explains how to use a pickup truck "as a mowing machine, not to mow grass, but mow down the enemies of Allah." The article continues: "to achieve maximum carnage, you need to pick up as much speed as you can while still retaining good control . . . to strike as many people as possible in your first run."
More here
I am afraid that Muslims in America and also in other countries are listening to the words of al-Qaeda, and indeed are starting to kill at random . We have seen it in Canada, and also in
Jerusalem
that innocent people are being attacked by Islamic terrorists.
Yesterday there was a case of sudden jihad in New York. Two policemen were wounded when a converted Muslim attacked them.
Officers shot and killed a man identified as Zale Thompson, 32, of Queens, who fractured the skull of Officer Kenneth Healey, 25, at about 2 p.m. in the Jamaica section of Queens. Videotape and witness accounts apparently showed Thompson intentionally targeting four rookie officers. Thompson was seen minutes before the attack pulling a hatchet from his backpack and then began attacking the officers, slicing a second cop on the arm before he was fatally shot, the New York Post reports.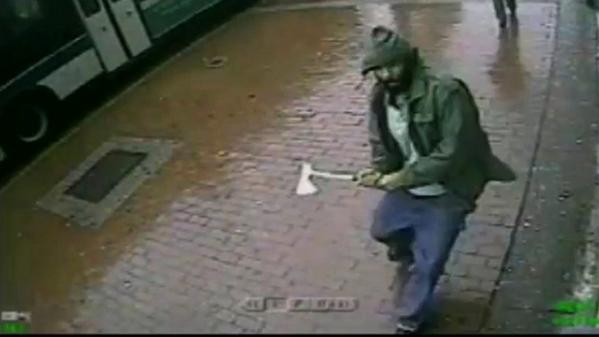 NYPD Commissioner William Bratton told reporters "There's nothing we know at this time that would indicate that [Islamic terrorism] is the case,"
No.... Of course not...
Thompson, whose Facebook page includes a passage from the Koran and a photograph of a masked militant, is being investigated for possible terrorist connections.
This is his facebook
.
Thompson allegedly called for a revolution on American soil on his Facebook page, but the messages were no longer visible early Friday.
"America's military is strong abroad, but they have never faced an internal mass revolt," Thompson posted on the social media site. "They are weaker at home. We are scattered and decentralized, we can use this as an advantage. They are centralized and strong, which can be exploited as a weakness. Think of a swarm of bees (negroes) that surround and attack an elephant (America) to death."

The suspect also called for guerilla warfare.

"Helicopters, big military will be useless on their own soil," another post read. "They will not be able to defeat our people if we use guerilla warfare. Attack their weak flanks ... If you get wounded who cares. If you die who cares. Eventually they will surrender and then the war will be over."