A chicken shop worker convicted of planning terror attacks in London drafted a "to-do list" of what he would do when he reaches the heaven, including: choosing a palace, meet all wives and visit Jannah market. See the full list here: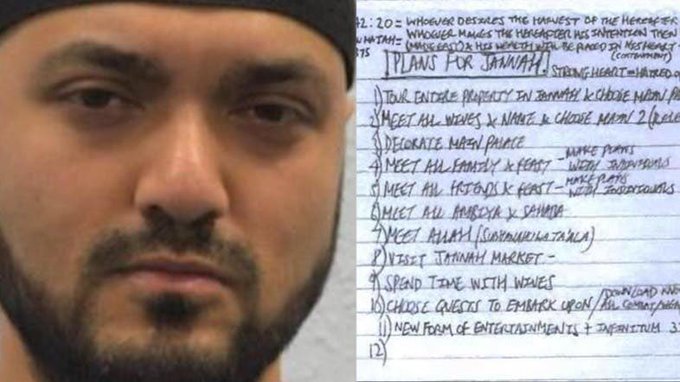 Meet wives and feast with family and friends way before meeting Allah. Aye, priorities.
Why is "Meet Allah".. 7th on his list ? Shouldn't it be first ?
What is Jannah Market?
Send this man asap to Jannah.
Would-be terrorist to-do list in heaven: Choose palace, possess wives, meet God

A chicken shop worker convicted of planning terror attacks in London drafted a "to-do list" for what he was going to do when he got to heaven, according to a document published by the BBC.

Top of his list was to choose his main palace, consummate his relationship with 72 wives, feast and meet God.

Entitled: "Plans for Jannah (Heaven in Arabic)" the list details:

• Tour entire property in Jannah and choose main palace
• Meet all wives and name and choose main 2
• Decorate main palace
• Meet all family and feast
• Meet all friends and feast
• Meet all Ambiya [prophets] and Sahaba [companions of prophet Mohammed]
• Meet Allah [God]
• Visit Jannah market
• Spend time with wives
• Choose quests to embark upon
• New form of entertainments

The list is surrounded by verses from the Quran, sayings from Islam's Prophet Mohammed and a scarcely legible definition of heaven.

Mohiussunnath Chowdhury, a 28-year-old former Uber driver, was convicted of preparation for an act of terrorism, collecting information useful to someone preparing an act of terrorism and disseminating terrorist publications after an undercover police operation that lasted five months.

He prepared for "martyrdom" by planning for attacks on Madame Tussauds wax museum in London, a Gay Pride parade and an open-top tour bus.

Sneha Chowdhury, his sister, was also convicted of failing to disclose information about acts of terrorism.