skynightblaze wrote:It simply is not possible that Abbasids on one hand protected quran and on other hand fabricated the hadiths. It means that entire generation of Abbasids were corrupt so there is no stopping them from corrupting quran.
As I've said you must prove this other wild assumption. You won't !
skynightblaze wrote:Your translations are flawed as Debunker pointed out. Every single arabic word has a root but its not necessary that every time the word in question gets the meaning of its root.
Is Debunker able to debunk me from Classical Arabic Dictionaries? Your assumption only meet his.
skynightblaze wrote:Most of my posts are based on logic and not Sunnite arguments.
Oh I guess I was the one relying on al Kalbi as a reliable historian.
skynightblaze wrote:I mean historical or archaelogical evidence doesnt tell us anything about illiterate society or corruption in political or religious layers etc.It seems that you selectively pick from those sources again.... Yes historians would fabricate because they were getting paid but my question is very specific. Getting paid would explain as to why Ibn Ishaq would fabricate things but this doesnt explain why Abbasids would want Ibn Ishaq to include facts like construction of mecca in the 4th century AD especially when their aim was to say that Mecca was built in the time of Abraham.
That's only showing your total ignorance on history all over again.
They first started to forge so to establish a blood-link with Muhammad through the fictitious Abd al-Muttalib. The first layer was political...
http://en.wikipedia.org/wiki/Battle_of_the_Zab
" onclick="window.open(this.href);return false;
The Umayyads could claim no direct descent from Muhammad, however the Abbasids could make such a claim — a fact they played upon greatly during the revolution, although not specifying until the revolution had been won that they were in fact descended from Muhammad's uncle.
http://en.wikipedia.org/wiki/Abbasid
" onclick="window.open(this.href);return false;
The Abbasid caliphs descended (???) from Abbas ibn Abd al-Muttalib (566 – 662), one of the youngest uncles of Muhammad, because of which they considered themselves the true successor of Muhammad as opposed to the Umayyads. The Umayyads were descended from Umayya, and were a clan separate from Muhammad's in the Quraish tribe. They won the backing of Shiites (i.e. the Hashimiyya sub-sect of the Kaysanites Shia) against the Umayyads by temporarily converting to Shia Islam and joining their fight against Umayyad rule.
_____________________
skynightblaze wrote:I do this because I see the dishonesty in the first place from the quran alone muslims.
Thanks for admitting your basic dishonesty. Theirs is just a sophist's excuse.
skynightblaze wrote:Are you really so gullible to believe that one who is bent on hell to defame muhamamd would only corrupt hadiths instead of corrupting quran??
A vast majority of Muslims still believe that the hadiths sanctified Muhammad...
He's a model, Muslims' dignity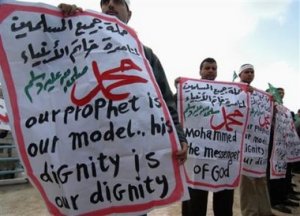 Do they think the hadiths defamed Muhammad?
skynightblaze wrote:Keep in mind your threads could be getting hits because you are stupid.
That's stupid but anyway, just like you. You're only good at being trivial... What else from a self-admitted dishonest person.