Lesson 14: Teaching Islam to Children
Teacher speaking:
Today children, we study statues in Islam. But first let's recite forty times verse No. 5250 from Sahih Muslim.
Children reciting in unison:
Sahih Muslim Book 024, Number 5250: Abu Talha reported: I heard Allah's Messenger as saying: Angels do not enter the house in which there is a dog or a statue.
Teacher speaking:
Children, the picture on the wall is part of a frieze located on the United States Supreme Court building. A frieze is an architectural ornament consisting of a horizontal sculptured band of images. Our Prophet Muhammad (pbuh) is on the right. Charlemagne, the person on the left, was King of the Franks and Roman Emperor. Children, you have one hour to take the essay exam. Read each question carefully. May Allah grant you wisdom.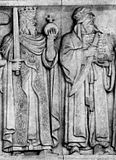 Essay Exam
Charlemagne had twenty children over the course of his life with his ten wives/concubines
source
, while with thirteen wives/concubines Muhammad had six children with only two of them living to adulthood.
source
Even though Muhammad, the final prophet of Allah, had three more wives/concubines
;
why did Allah bless the Christian warrior King Charlemagne with 14 more children?
Muhammad is carrying a sword in his right hand
and the Quran in his left hand.
Identify which sword it is from the list found at
swords
For proper bathroom etiquette,
one should always use the left hand in cleaning oneself.
Write a 250 word essay on why you should never carry the Quran in your left hand.
In order to prevent idol worship of statues,
they must be destroyed
source
.
Explain the technique that you will use to whacked off the nose of Muhammad on the Supreme Court Frieze.
This action will prevent any visiting Muslim from prostrating himself before the frieze of Muhammad.
Charlemagne's grandfather was Charles Martel, the warrior who crushed
the invading Muslim army at the Battle of Tours in 732 CE and stopped the spread of Islam into Europe.
Why did Allah permit Charles Martel to win the battle?
P.S. For new members of FFI who are not familiar with my lessons, you can find them here
http://www.wikiislam.com/wiki/Farsideology
" onclick="window.open(this.href);return false;
Kind Regards,
Farside